Our Flavors
Mango
Grape
Pear Ginger
Citrus Ginger
Pomegranate Cherry
Raspberry Citrus Ginger
$6 Each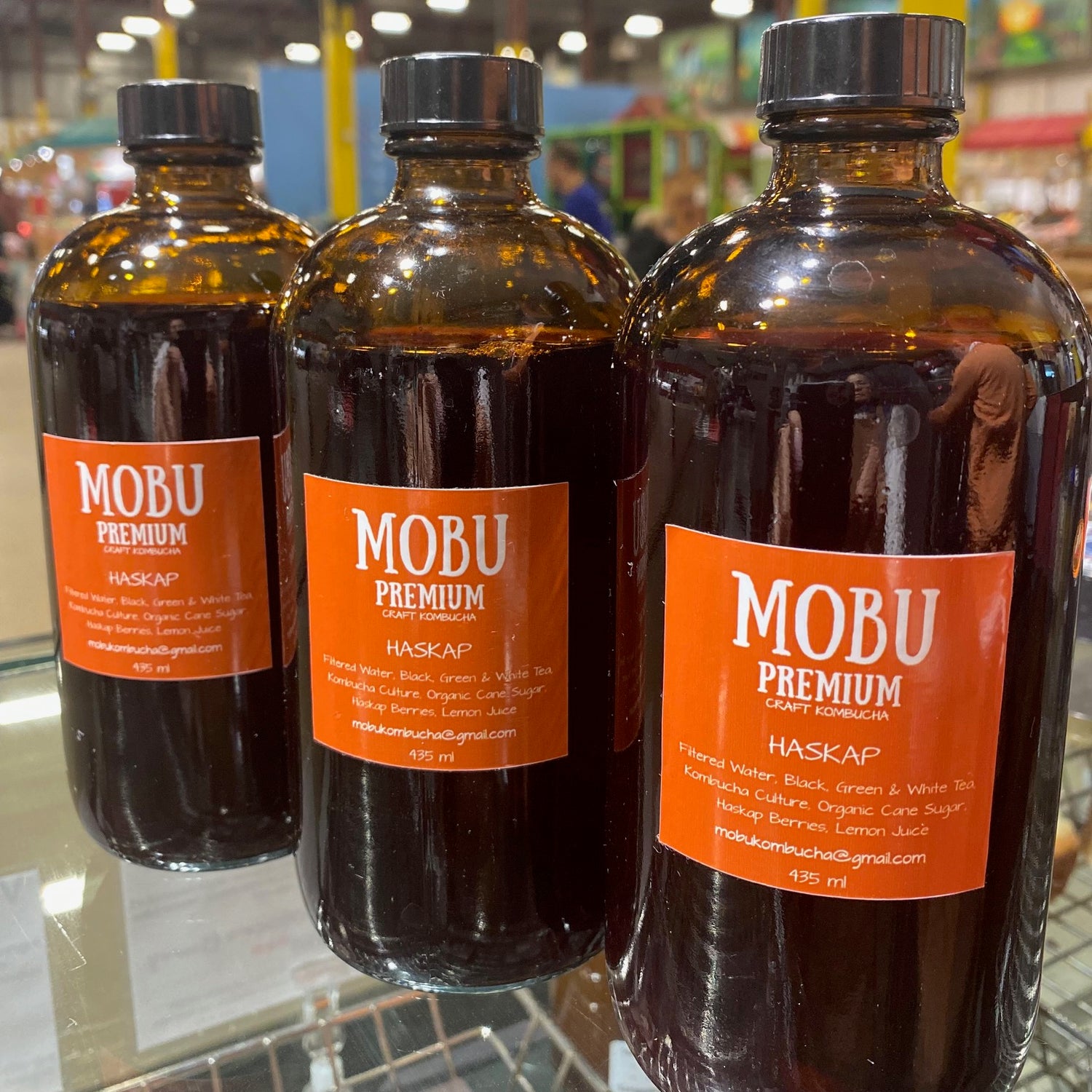 Premium Flavours:
ABOUT OUR HASKAP……
Haskap Kombucha is made from five organic Haskap super fruit varieties: Aurora, Undergo Gem, Boreal Beauty, Boreal Beast, and Tundra.  All sourced locally from Rosy Farms.  The owner, Andrew Rosychuk, shares our passion for doing things right.  On the 76-acre farm, Andrew transformed overworked farmland into rich, productive soil using forward-looking methods like growing native plants between the orchard rows and managing the soil as a complex organism rather than simply fertilizing.  Using organic and regenerative farming, Rosy produces superb, nutritious berries that are worth their weight in gold.
Starting with the finest black, green, and white whole leaf teas, MOBU's two-stage fermentation process produces a delicious, naturally-carbonated brew that truly sets us apart. 
The overall result is something special.  As rich, complex, and beautiful as a fine red wine at the same time as sparkly and thirst quenching as an ice-cold soda.  All while packed with probiotics and enzymes, 3-times the antioxidants, 5-times the anti-inflammatories, and 4-times the anthocyanins of blueberries……
(Mobu's Haskap is currently in the Finals of Made In Alberta Awards)
ABOUT OUR PINEAPPLE……
Pineapple Kombucha is made from Pure Filtered Water, Black, Green & White Tea, Kombucha Culture, Organic Cane Sugar, Fresh Cold-Pressed Pineapple & Juice, Lemon Juice.  Pineapple is low in calories while very high in vitamins and minerals.  Proven to fight inflammation and arthritis as well as aid in digestion.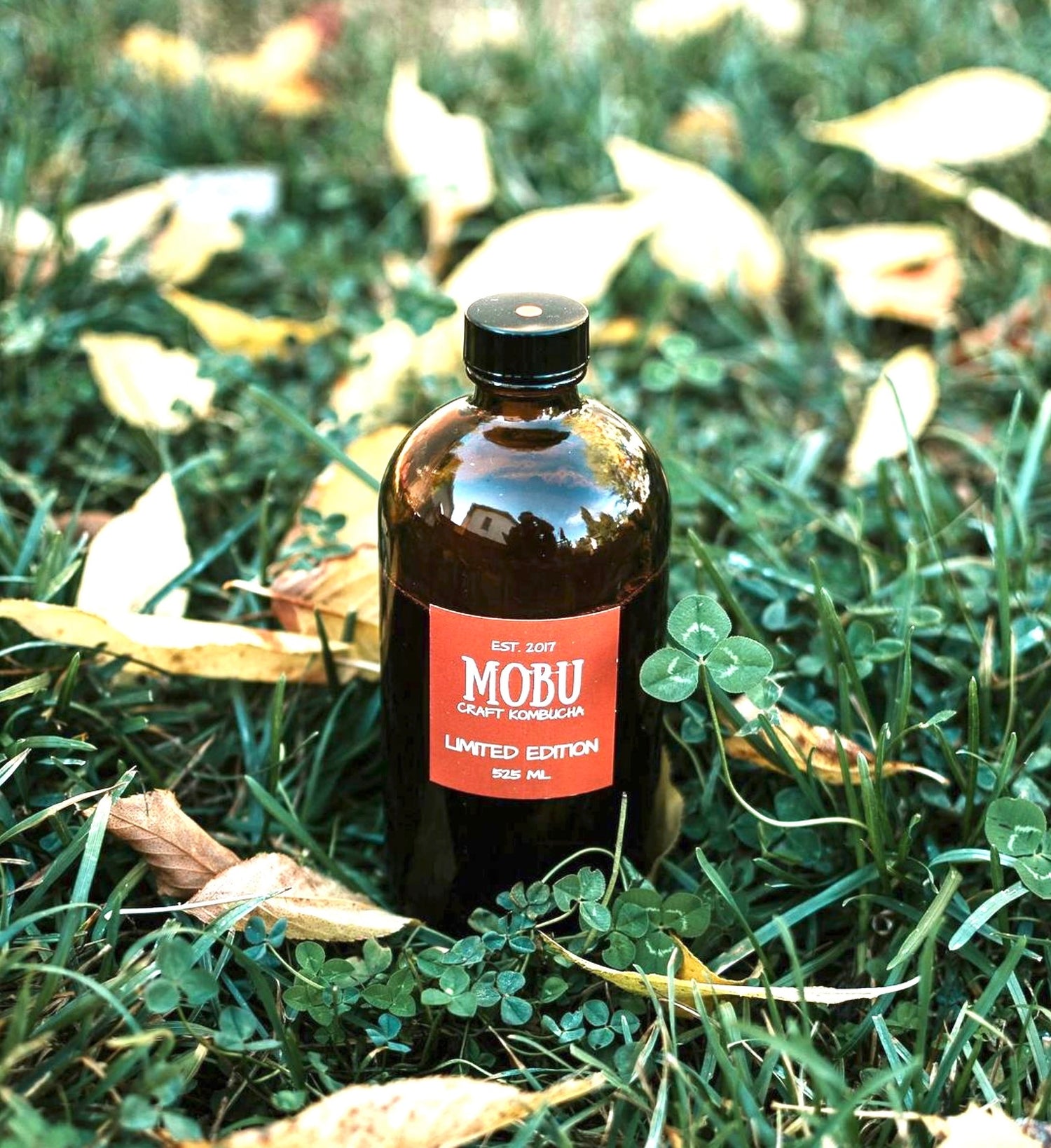 Limited Edition:
Passion Fruit Kombucha is made from Pure Filtered Water, Black, Green & White Tea, Kombucha Culture, Organic Cane Sugar, 100% Passion Fruit Pureé, Lemon Juice.  Besides being exotic and delicious, passion fruit is packed with antioxidants, vitamins, and fibre.  Has a low glycemic index while supporting immune system and heart health.  
Mobu Premium Flavours & Current Limited Edition Premium $7.5/bottle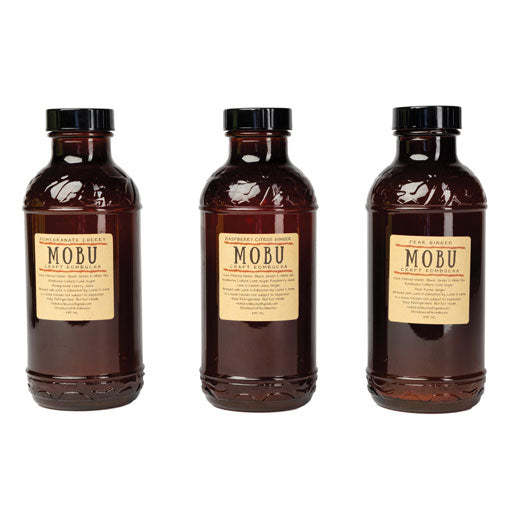 Wholesale
Interested in stocking Mobu Kombucha at your retail space? Get in touch! We supply kombucha in bulk to cafes, bars, restaurants, cafeterias, resorts, spas and more! 
To begin the process, give us a call at 780-719-1888.
MOBU Summer Outdoor Market:
Bountiful Farmers' Market

St. Albert Farmer's Market

Stall 350

2023 dates:  Please note MOBU is only at the market on these dates:

June 17,

July 1, 22, 29, 

August 5, 19, 26, 

Sept 2 and 23

St. Albert Farmer's Market

Old Strathcona Farmers' Market

Yes, we do delivery!  

Within city core, deliver is free with $60 purchase.  

Around City of Edmonton free with $100 purchase or delivery will be $7.50-$15 depending on where you live.  

Communities surrounding Edmonton (e.g, St. Albert, Sherwood Park) free delivery over $200 purchase otherwise $15-25.